To make a way out of the crowd and establish themselves as one of the powerful competitors in the market, an America-based company contacted us to build a custom platform for live interactive streaming and fan engagement. We recognized this need and developed a revolutionary solution to redefine how people interact with live-streaming content. It was completely different from other live-streaming platforms available today.
Combining the power of live streaming, fan engagement, and World management, this innovative software platform sets the stage for a captivating and immersive experience.
Technologies Used
Time Spent
30 Months | 4 Resources
Context
Supreme Technologies helped the client implement a live interactive streaming platform for multiple industries and penetrated fan engagement. It also integrates one of its kind content management tools to manage content in a highly flexible web portal. This comprehensive content management system ensures that the right content reaches the right audience at the right time, enhancing the overall user experience.
To set up something exceptional and unparalleled unwavering commitment, relentless effort, and an unwavering dedication to excellence are needed. During the development process of this live interactive software, our team encountered various challenges that tested our skills and expertise.
Overcoming Technical Hurdles
We need to optimize video and audio delivery, minimize latency, and provide a smooth streaming experience for users worldwide.
Create Strong Infrastructure
We needed a robust and scalable infrastructure to support the increasing user base and handle high traffic volumes during live events.
Ensure Synchronization
Develop interactive chat functionalities and ensure real-time synchronization between the content creator and the audience.
Seamless User Experience
Content management proved to be a complex aspect of the development process. Content Creators need a flexible and intuitive system to efficiently organize and manage their materials, including live session scheduling, uploading resources, and managing playlists.
Despite the challenges, our team's expertise, collaborative approach, and dedication to delivering a reliable solution enabled us to overcome these obstacles and successfully develop a complex PHP-based live interactive software platform that empowers content creators across multiple industries worldwide.
DJs and instrumentalists from different locations can perform at the same live event.
Corporate businesses can communicate with investors and employees worldwide in perfect sync.
Two-way streaming for effective interaction in educational institutes. Perfect audio/video sync for sharing video content.
Analytics
Google Analytics
Facebook Pixel
Font Scripts
Google Font
Font Awesome
JavaScript Libraries
Core-js
OWL Carousel
jQuery
Programming Language
PHP
Miscellaneous
Popper
Web Servers
Nginx
Security
HSTS
CDN
Cloudflare
Cdnjs
Maps
Google Maps
UI Frameworks
Animate CSS
Bootstrap
Rich Text Editors
CKEditor
Streaming Software Solutions for Corporate Businesses
It was a unique and reliable source for corporate businesses. The software's unique features include real-time fan engagement, seamless live streaming, intuitive content management, and robust security. This innovative solution has set them apart from competitors, captivating audiences worldwide and establishing long-lasting connections with their fans, students, fitness enthusiasts, and patients.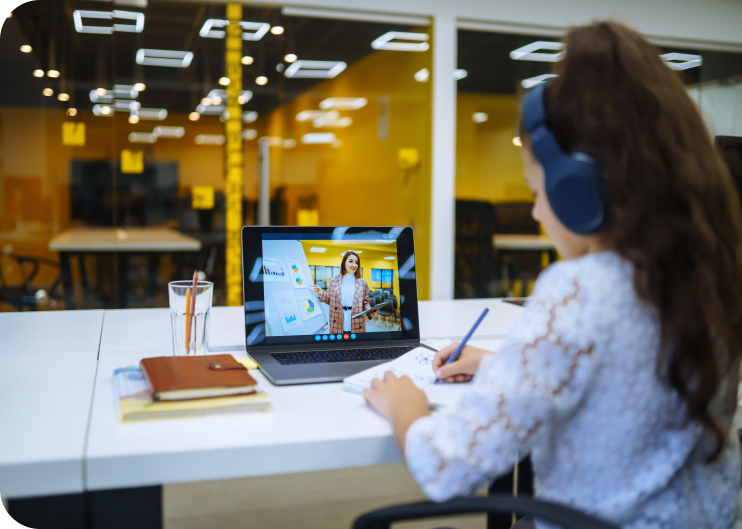 Virtual Classroom Solution for Online Learning
Supreme Technologies developed a module that is the ideal solution for educational institutions looking to navigate digital presence successfully. By offering a role-based management system, it empowers institutions to create customized profiles for staff, tutors, and students, ensuring controlled access to academic content while maintaining a productive learning environment. With a dedicated focus on data privacy, the platform employs robust security measures to protect sensitive information and stay up to date with evolving security threats.
Real-Time Fan Engagement
To help the clients developed a real-time communication system, including interactive chat functionalities, to enable seamless interaction between content creators and their audience. Through the implementation of efficient message queues, WebSocket protocols, and event-driven architectures, we achieved synchronized and responsive fan engagement features.
User-Centric Content Management
We prioritized user experience in the content management system, focusing on intuitive interfaces and streamlined workflows. By conducting user testing and gathering feedback, we refined the system to make it user-friendly and efficient for content creators to organize and manage their materials effectively.
Customizable Features
Users are provided with custom features to make their streaming experience more effective. These features include API Pictures to customize the picture's shape, add or change the event's banner, and publish tool to publish created event.
Results
By successfully overcoming development challenges, we have delivered remarkable results that have revolutionized our client's businesses. Our innovative solution has enhanced their offerings and empowered them to thrive in today's digital landscape. Whether a world-renowned DJ, passionate teacher, dynamic fitness instructor, or dedicated healthcare professional, our client has witnessed significant benefits that have taken their businesses to new heights.